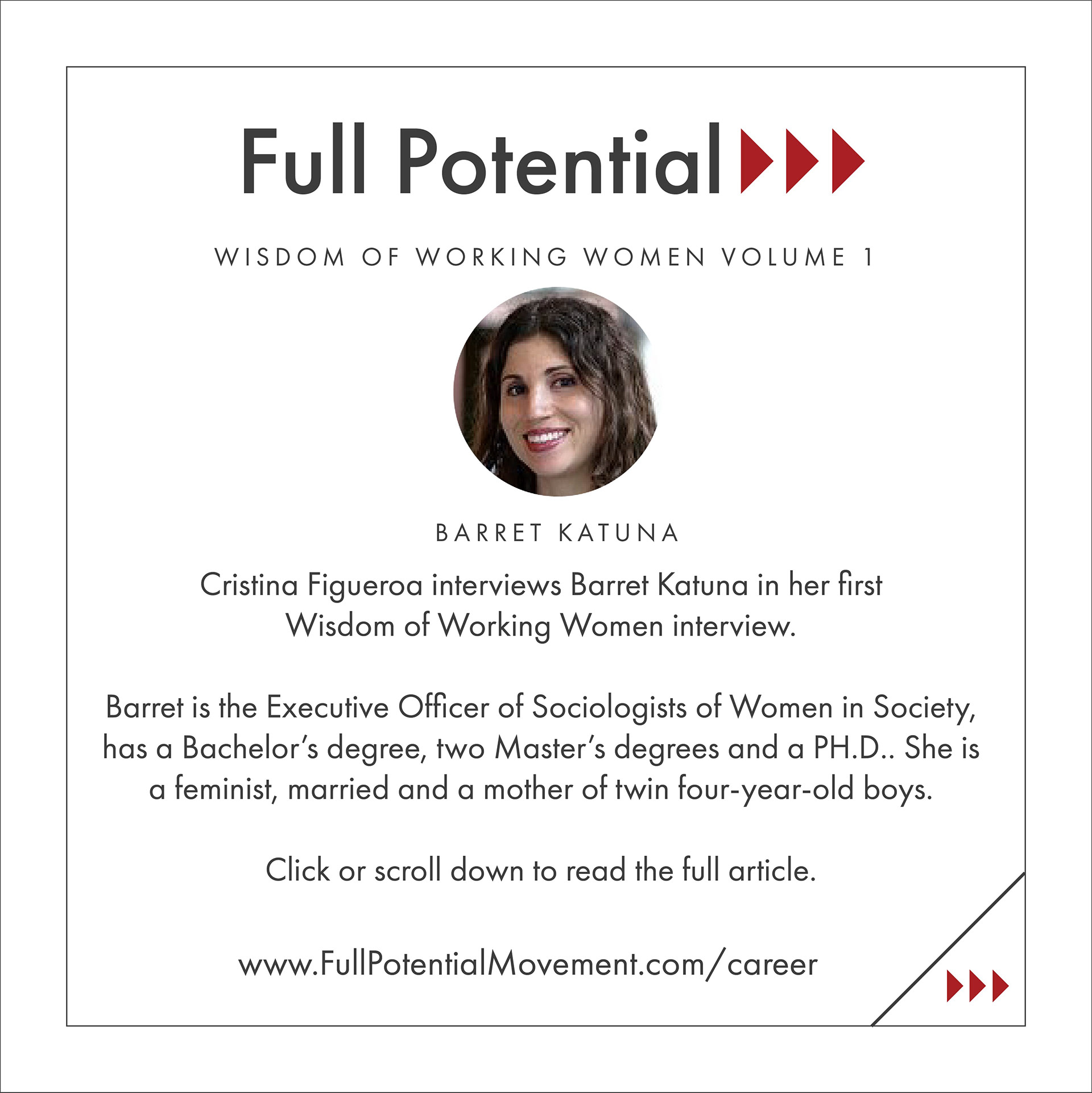 Do you ever feel like you have all the time in the world but also feel like time is running out? I so get you. As a person in their 20's I understand the dilemma of feeling old but also having no clue about the future. Who's better to ask than someone who's already done it?
Barret is a woman who wears many hats; she is the Executive Officer of Sociologists of Women in Society, has one Bachelor's degree, two Master's degrees, AND a PH.D., is a feminist, is married, and a mother of twin four-year-old boys.
Barret graduated from Lehigh University with her Bachelor's degree in French and Political Science in 2004. During her first Master's program in Political Science at Lehigh, Barret interned for the Department of Public Information, NGO Section, at the United Nations. After she completed her UN internship, Barret went on to work for Lehigh University as an Associate Director of the Lehigh Fund. Shortly after, Barret realized her passion for academia and moved from Pennsylvania to Connecticut to pursue her Ph.D. in Sociology. In 2014, Barret received her Ph.D. in Sociology from the University of Connecticut.
Barret worked her ass off, from an intern to a graduate assistant, to a Visiting Assistant Professor, and finally, Executive Officer.
We could all learn a thing or two from Barret Katuna. I thought a powerful, woke, and successful woman like Barret would be a great person to interview, so I did just that. I asked Barret a few questions and below are her answers, check it out:
What was the most difficult challenge you've faced in your career?
"Being incredibly credentialed but having no idea what to do next."
Barret joined the University of Connecticut Sociology Department staff as a Visiting Assistant Professor just months after completing her Ph.D. from this same institution. This was an appointment that would not last forever, she felt as if her time was running out. She wanted to land a full-time position that would make use of her skills and education.
"I remember thinking, how do I convey to the non-profit sector that my academic skillset applies outside of teaching a class?"
Not only did Barret have a difficult time deciding her next step but committing to something unfamiliar. Barret feels that without her support system that included her immediate family, dissertation committee, colleagues, and friends, she doesn't know what she would've done. Her family and friends encouraged her to take on her current position, Executive Officer of Sociologists for Women in Society. She didn't have experience in such a significant leadership role but knew she could handle it.
What is one mistake you've made in your career you'd like others to learn from?
"What's next after college?"
Barret is very proud of her Ph.D., and with good reason, she worked her ass off for six years. She simply wishes she had taken her time after earning her bachelor's degree. Barret feels she was too impatient at the time, she didn't want to have to climb the career ladder. Barret admitted that had she more systematically reached out to others in different fields, she may not have gone for her Ph.D. She wishes she was a little easier on herself and realized she had plenty of time to figure everything out.
What is something you wish you knew as a college undergraduate?
"Nobody really cares what your G.P.A. was."
Barret's final piece of advice was to try new things- experience all that college has to offer because the "real world" is no joke. Barret says you should make the most out of your college experience; meet new people, connect with your professors, go out of your comfort zone, and most importantly, learn more about yourself.
Barret also suggests to take classes outside of your major, broaden your horizons if you will. If you can, stretch yourself to take a class in an area that you find challenging. You will learn so much about yourself and how you can power through tough times. She also said to get a head start by developing a good work ethic early on. Learning new skills will set you apart from the competition.
Isn't it refreshing to get some professional advice from like, a "real" person? Barret was once in our shoes, and with her help, we are one step closer to heading in the right direction.
Christina
Figueroa's mission is to create content that falls into at least one of the three categories: positive, powerful, and/or professional. Her Wisdom of Working Women series interviews successful, working women and identifies what has made them successful in their careers.