Perspective From a Professional Mom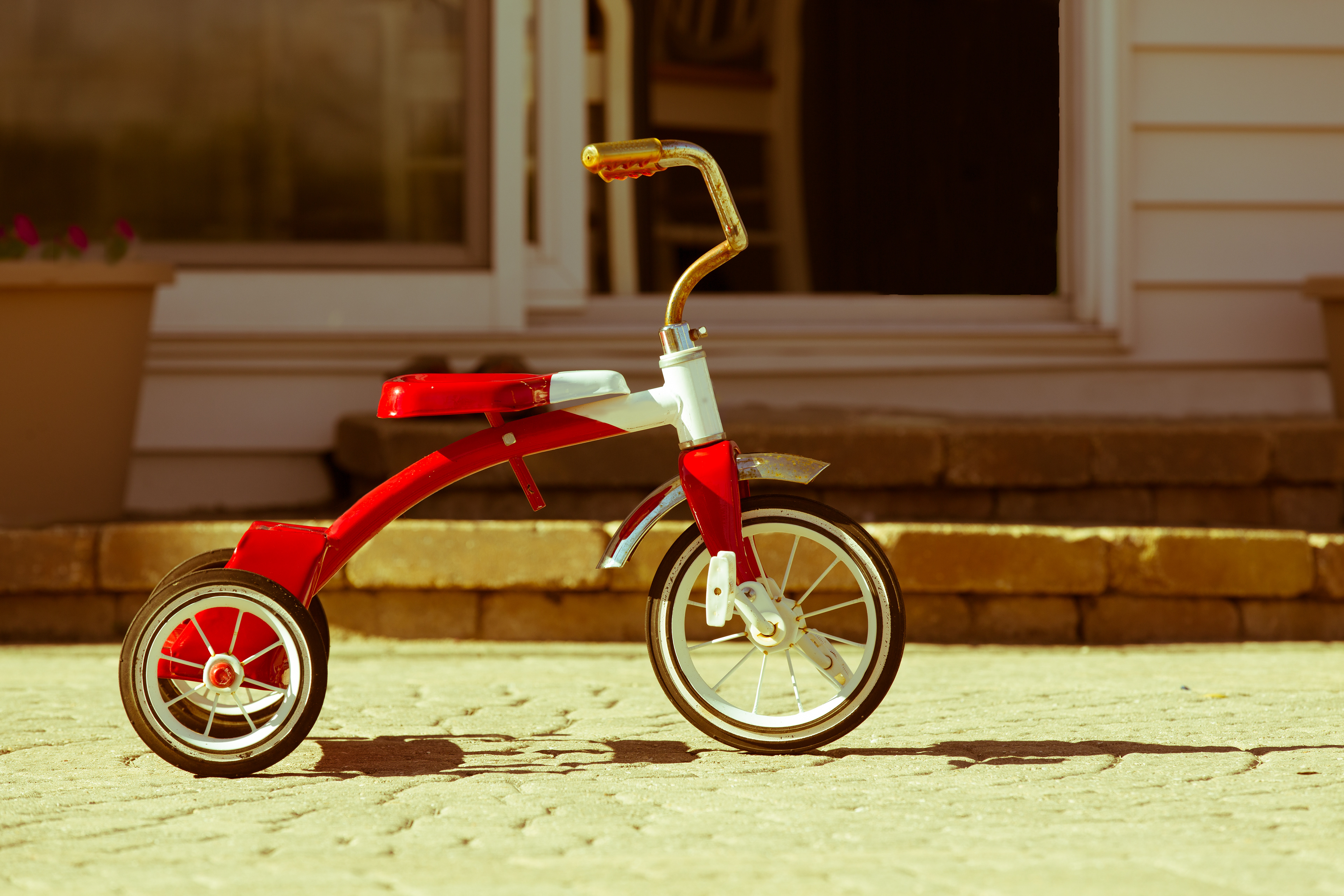 I am a mother of four who tries hard each and every day to balance work, extra-curricular activities that support my children and their education and keeping a home where my children feel fulfilled and nurtured.  My husband is an IT professional with aspirations of becoming a CIO.  He is a great dad who stretches their minds, supports their activities and loves us all for the individuals that we are.  Sounds pretty much like the life all of us desire every day: balance, achievement, satisfaction and happiness.

Since I can remember, I wanted to be a mother.  I wanted to have time to enjoy my children and not have them in daycare or such being raised by other people much of their daytime hours.  Primarily I was successful at that goal.  I took 12 weeks maternity leave with my first child, my daughter who is now 14 years old and a sophomore in high school, and I used the remaining 4 weeks given in Connecticut to prove to my boss that I could work 24 hours, 2 in the office and 1 from home, to support my job.  What did she say to me?  "As long as I can reach you whenever I need you then you can do that."  Thankfully I was successful.  (She had her husband staying home with her children, so her career, notoriety and focus was on her work.)  If anything, I am a planner, organized about everything that I do and focused when I am working.  I was working in Six Sigma Quality at the time so I was a resource that collaborated with many functional areas to support their projects looking for efficiencies and better ways of operating.  How perfect for me!  I do the same thing in my every day life so the skills I had acquired from GE, learning about the Six Sigma methodology, and also from Penn State where I was a Management Science and Information Systems major, worked well and made me a strong contributor in this capacity.  In order to achieve at work, satisfy my manager and live up to what I desired as a mother, I kept my baby girl on a tight schedule, I was online when she was napping and I was consistent on follow-up with all of my business customers.  I read to her, played with her, nursed her and gave her all that I believed she needed to begin developing into a little person. 
Between having my daughter and having my first son, I was forced into a contractor position.  This time I would not be given maternity leave so I worked extra hours at night, leading up to his birth and I managed two kids, napping, feeding and playing/interaction time as well as starting back to work by 6 weeks after giving birth (the time when FLMA stopped paying you).  It was busy but I was happy and we were making it work.  Daycare was on the campus where I worked and so for the two days I went to the office each week, I would drop the kids off at 7:30am, sneak in a quick lunchtime visit and be back to get them around 4pm.  It was busy, it had the usual spattering of sleepless nights, but we made it work.  I was loving being a mother, I was getting satisfaction out of the work that I did, but there was a balance, work was not the top priority for me.  My husband's job took precedence and he was able to continue to prove himself and grow his responsibility.  I, on the other hand, was moving laterally, finding meaningful work but not taking on more responsibility.  Satisfaction, achievement and happiness to me was the ability to do some of it all.  I have had friends tell me that working part-time is the most challenging scenario because your mind has to be in both worlds: professional and mother/home, but that was okay with me.  I am a multi-tasker and as long as I believe I can do my best at everything that I do, I am pleased and fulfilled. 
Thankfully before my second son/third child was born (exactly 4 years after my first), I had been hired back so I had employee benefits.  I had gone back into working in Information Technology and I was supporting recruiting and the technology development internship program.  When I graduated from Penn State, I went into an IT Leadership Development Company.  I was in different IT roles, learning about different facets of technology while being in four different types of businesses around the country.  I was raised in CT and was a truly northeast girl, but my rotations took me to Dallas, TX, Philadelphia, PA and Raleigh, NC.  In the end, we decided to return to Raleigh (a great city that is a bit more laid back but still has plenty of northeast transplants so it isn't too slow and southern) for a job and to buy our first home.  Working in Raleigh I remember noting how many women hadn't really climbed the corporate ladder but were still doing good work, just at primarily individual contributor levels.  At the time I couldn't understand how that could be the case.  They had worked so long, acquired quite a bit of knowledge, how was it that they weren't climbing the ladder?  Now, being on their side of the journey of life, I get it entirely and believe that someone, in each household, has to put the family first and the other person can then have the capacity and ability to make their career and work the first priority. 
But returning to the story, the work I was beginning as my third was born was very rewarding and a special fit because having been a part of a leadership program, it was great to work with recent grads again.  It was a lot of work and commitment but it was work that I enjoyed doing, looked forward to and found very rewarding.  I was able to see my recruits go into full-time positions and begin their own journeys climbing the corporate ladder.  Students that I worked with then, I still keep in contact with now.  I remember conversations with them, I remember the impact I made on them and I know they saw me as their work "mom", a role I was proud to play!  Although I was an IT professional, my true passion was working in talent development and helping other young people find opportunity.  I did lots to grow the program, to engage us with universities, to double the size of the internship program, to develop a presentation format where student interns could really demonstrate their value to the organization in a very short period of time.  This work energized me, satisfied me and made me happy.  I continued in that IT but HR type of capacity through to 18 months later when my fourth child was born.  Finally, at that point we moved to having someone come to the house two days a week to be with the kids when I had to go to work, but still I balanced work.  I had begun at about 24 hours with my first, increased to 30 with my third and by the time I had to leave when my youngest was three years old, I was working about 35 hours a week.  I was only getting paid for part-time (30 hours), because that status gave me flexibility, but the work was increasing because no matter what, I was dedicated and doing my best at everything that I did was the only option.  After great success and being offered a more significant role in HR after a great end of internship presentation, I decided to return to IT.  The HR leader who had wanted me to come to work for him, who had wanted to give me more responsibility and who saw me as a strong performer in his space told me to be careful back in IT.  He told me that they work their people to the bone and to be careful.  I should have listened better.  Earlier in my career, when I decided to pursue the role in Six Sigma, because I believed that there was a lot of need to leverage the mindset, an IT manager had told me that "once you leave IT you will never be able to come back in".  I didn't believe he was right and I didn't want to hear that advice, but I must say that it must have subliminally stayed in my mind because I have continued to find roles back in my area of training (MIS) and each time I return to IT, I am less than satisfied and question my decision. 
So, I decided to return to an old manager and to work with the students who had been my recruits and to lead them as a Project Manager.  We were coordinating developing apps that they had proposed as interns, to be used by the company and their customers.  There were some pluses that I was working with students I knew, on something they were passionate about, but there were many challenges in getting people to focus on work that wasn't critical to the bottom line.  While this was happening, my kids were in four different schools and the amount of work was increasing (35 hours, which happened a lot between 7:30 and 11:30 pm after the kids went to bed) and I had finally reached the point where my 37-year old body couldn't find the balance.  I woke up one night shaking and realized that physically and mentally, I couldn't do it.  I couldn't be the mom that I wanted to be while achieving at work and being a sane wife and person.  At that time my husband and I made a tough decision to have me stop working for a while, to figure out our savings, have faith and to give me time with the kids until another opportunity, that meant balance and fit, came along.  We had just done renovations on our house, but we were pretty good at saving, so my temporary working hiatus was possible.  I remember that I was so overwhelmed that I couldn't take it one more day.  I waited until my bonus check was deposited and because I couldn't catch my boss on a day I was in the office, I called him on the phone and told him that I was leaving.  For most people, it was hard to understand, hard to explain.  I remember sitting in conference rooms when they would make the announcement saying that I was leaving and awkwardly stated that I was taking some down time to determine what was next.  I can say it didn't feel satisfying and I was a bit more worried than happy, but it was a blessing.  It was April when I stopped and I was able to enjoy the beautiful weather and end of year activities with my children, without the stress that work typically added on top of that.  I could focus on my PTO responsibilities (I had been president of the PTO for two years, starting when my children were 7,5,3 and 1 and an officer or very active member all of the time they were in elementary school) and my role as a wife and mother in a way I had never experienced before, full-time!  It enabled me to help my family and organize my thoughts and as faith would have it, another role fell in my lap.  I had been helping high school students to have internships and the lady who was responsible for that program at the high school and I had had some conversations about her role and I was asking how I might be able to get into a school environment.  I had always wanted to be a teacher (I still say teaching kindergarten is my dream job) but without the education background, how was I going to be able to find a position within a school.  Well, my dreams had been answered.  The leader of the internship program at a magnet high school wanted to return to her guidance counselor role alone and her principal was willing to speak to me about taking on that role in her change of direction.  This was a role that I could do about 25 hours a week, where I would have my summers off and would return me to my passion, working with young people and helping them to find opportunities that energize them and change their futures.  The interview with the principal was very brief, he trusted her judgement and was okay with bringing me on.  We negotiated a bit on salary and figured out something that he could make work and I could make work and I was to start, now as my own LLC consulting to the school district, in September.  It was ideal.  I would go to the school two days a week, only while my youngest was at half-day kindergarten and I could be home to drive him home and enjoy lunch with him before he would nap and I would work.  I was there to greet the kids when they got home and balance had returned.  I was meeting professionals all across the area, identifying internships for students that would literally, change their future trajectories.  I was developing programs to improve their interviewing and resume writing skills.  I was understanding state and city funded programs that would enable me to be sure that every student was paid for their work.  The students I was supporting needed to make money to help their families.  If they couldn't be paid, they would have to work at McDonalds instead.  It was a great chance to increase my network, develop many different types of relationships and more than double the size and impact of the program.  I loved the work, the kids enjoyed working with me, I developed great relationships with the administrators and teachers at the school and I still had my summers off and balance! 
After 1.25 years as the internship coordinator, my husband's role had grown.  He was in charge of a very large ERP implementation and his work was demanding longer hours and even more focus and attention.  He was getting the chance to acquire the skills he needed to someday reach his goals of becoming a CIO at a large academic institution.  Where we lived was an hour away from his work though and so the commute was becoming too much.  Although we had just done renovations to our house to make it our forever house, we were moving!  The kids were very not sure about this, especially our daughter who was to be starting 7th grade in the fall, but we believed that change would make them stronger and in the end it would all work out.  As the case would be, it did all work out.  It took a long time to sell the house, so we had to move the kids in October, after they had started in our schools, but they moved right into their new schools, even my 7th grader immediately found her ultimate group of friends and everyone was successful in school.  Our new home was much larger and really fit our family better and it was only 5 miles from the beach.  I continued my role so now I had the commute two days a week, but my husband could continue to execute on his project and implement HR and Finance very successfully.  Although my commute was an hour long, I was able to drop off our youngest boys at elementary school and be home to pick them up at the end of the school day.  I was able to go in on Fridays to work with a small group on math, to participate in celebrations and school presentations and be part of PTO, Field Day and coach sports.  There was a good balance and my children were happy and enjoyed having me around and accessible.  I continued to lead the Work-Based Learning program until the beginning of 2018.  When my husband was given an award at Yale and was invited for an award ceremony at the president's home, I had joined him, to support this great accomplishment, for the happy hour and award presentation.  During the mingling time, he had introduced me to another leader who was being recognized.  She had a 5 year old boy who was just starting kindergarten and she wanted to get involved in the PTO.  She spoke to me for a few minutes and was impressed with me at this event.  I didn't believe I had really done that much or proved myself but a couple months later, she wanted to speak to me about a position.  Because I was driving so far to work, I was thinking that I should find an opportunity closer to home.  I loved my work, but I was concerned that my learning curve wasn't as steep and because I was outside of IT, I was afraid that I would lose my edge and my skillset so I believed that I should be looking at new opportunities.  As luck would have it, I did very well during the interview and I was offered a role as a Sr. Business Analyst working in downtown.  This role was only 20 minutes from my house but it was also full-time.  It was the first time I would have worked full-time since my first had been born 13 years earlier.  I had always said I never wanted to work full-time again but college was looming and four children were getting more and more expensive so in order to help support our family and do my part, I thought that this opportunity might be a great way to get my foot in the door. 
We decided that this could be a good career chance so I informed my principal that this opportunity had come about and I completed my role Internship Manager role in February 2018.  The school and the students made me a beautiful plaque and a video to thank me for my contributions, professionalism and impact.  It was very touching to realize how many students really valued what I had done for them.  Saying good-bye was very difficult and included many hugs.  Thankfully I had the chance to cross-train a teacher/coordinator who was going to come in to fill my shoes, but I knew it would never again be my program.  I had made a choice to return to my career and my technical skills.
This transition back to the work I was trained to do, into full-time employment, returning to not having summers off, has been a transition for all of us.  It has been a different type of balance.  The kids are a bit older, rely on me a bit less and are at school or school activities for a majority of the day but I miss the flexibility.  Unfortunately, the IT work hasn't turned out to be very fulfilling and I have realized quickly that although I always try to do what I am meant to do, this choice and being in a position where I am not satisfied, fulfilled or happy about my career is not ideal.  As a role-model for my children, I need to demonstrate to them that we work hard to achieve, we earn money to support our lifestyle, we give our best effort to our endeavors, but I also need to demonstrate that happiness and fulfillment matter.
Many mothers are torn every day about career vs. family, personal time vs. family time, volunteering vs. working.  Many families, fathers and career people work each day to find a balance.  I am no different, my family is no different, but as I have aged (and hopefully matured), I have realized that you can't ignore the signs.  You want to recognize what energizes you and find opportunities that align.  It isn't always about money, it isn't always about doing what you are supposed to be doing, and sometimes satisfaction has to be the primary deciding factor.  Life goes by quickly, time is valuable, our children grow up too fast and if our time is limited, then we want to make the decisions that are just, that are fair but also that are fulfilling.  Helping us to learn, enabling us to assist others by us using our talents in places where we are most effective, doing what comes naturally and fits our strengths will always lead to better outcomes.  I can honestly say that I am now in exploratory mode.  I am researching on flexjobs, I am leveraging my network, I am hoping to find something that will return me to what I believe I have convinced myself is my passion.  I want to enjoy the last few years that my children are home, I want to be proud of the work that I do when I am away from them, and I want to feel fulfilled in my soul so I can give back to them my best self. 
So, here shares the journey.  The book isn't done, the story isn't over, but I hope it tells about a mom who has made career choices not only for herself but for her family.  I hope it demonstrates to leaders in the business world about the importance of flexibility.  There are many great workers out there, there are many very talented mothers who can be more productive than most, who want to be strong contributors in the professional world but need the respect of society to understand that not all of their work can be done between 8am and 5pm.  I have long said there needs to be an option for Mom-Hours.  Working from 9am-3pm and being given the opportunity to complete work after 8pm or on their own time.  There needs to be more flexible options for summer hours and as a society we will be better served.  Nurturing the next generation is a very important job and one that should be the top priority and be viewed as fulfilling and worthwhile.
Continue to follow your dreams.  I feel very lucky that I got 3.5 years to work at Pathways.  I saw an industry I didn't understand, in action.  I saw how hard teachers work not just at delivering knowledge, but supporting our youth.  It was a role I had always wanted the opportunity to have and someone had taken a chance on me although I didn't have the exact right academic credentials.  Challenge yourself to find that perfect career in the space that energizes you because you will be more effective and more satisfied than if it happens any other way.
I am not sure if my story will help anyone else ponder anything, but it does help me to think through my journey and ponder the next chapter.  There can and always should be another chapter and hopefully each is better than the last.  When that isn't the case, have faith and take the time to change, to find the direction/role/opportunity that will be the better fit.  I have always said that you learn more from the worst manager or the job that isn't the best than you do from the ideal scenario. 
I spoke to Nick about my journey and my current hiccup a few months ago.  He correctly reminded me to take an inventory of what is truly important.  To understand what I truly have to make financially and to take time, be patient and find a role that really is the fit that makes sense.  He took over the program and my role as internship leader after I left that role.  At the time, he was shifting his career focus.  But Nick is talented and is also an asset to people and helping to develop people and he was brave and bold enough to resist the encouragement of IT leaders and to follow his own best journey.  I will continue to try to learn from his example and make new choices for myself going forward. 
I hope for everyone listening that you can take 2019 and make your chapter better or if you have found the best fit for you, congratulations and give someone else the opportunity to join you and do the same!   
APPENDIX: After I wrote this article, I had to follow-up with my boss about my contractor status and whether I wanted to join full-time in the organization and area where I sit currently.  Given that this is not my ideal role, but not having found the next fit yet, I very tactically had an honest conversation with my manager about value, leverage, and perspective.  I realized that some of what I need to consider is the culture and whether or not I can change to adapt to a culture that is slower than my natural pace but allows me some freedoms as a mother.  After talking about my role, the conversation had to turn to what I wanted and what I was planning as my "next step".  As I tried to remain composed but also speak from the heart, the tears welled up and soon came falling as I tried to say, "this role has made me put my children second."  For a mother who would never want or intend to do so, thinking about the past year and the sacrifices I had made to keep up with a full-time schedule, I was brought to tears.  Thankfully for me, my manager has a heart (well, and she is pregnant and a bit emotional).  She looked at me and said, "You have to figure out what you need.  It isn't about what you CAN do, but instead what you NEED to do to make yourself whole again.  You have been burning the candle at both ends and as women, we have to stick together and I will not allow this to continue.  Take a day and think about what you need, come back to me, and we will discuss with HR, what our options are to give you the freedom you need."  She also mentioned reading a book about a word that you select each year that is your motto.  It is what you are going to focus on and look to reach for the year.  For this conversation, first off, I was so thankful she had let me be honest, she had been willing to hear me, and that as another woman (soon to be a mom) she had supported me.  Secondly, I was proud; proud of myself for being honest with myself, for verbalizing how I really felt and for finally admitting that change had to come.  Too many times we do everything for everyone and we want to be the best at everything for everyone, but when we don't nurture ourselves, it gets difficult.  So instead, I negotiated for a part-time schedule and I came home and shared the news with my children and they were overjoyed.  I have been yelling a bit more, a bit more curt this past year, and just haven't been able to be around for the extra car rides or hugs and they notice, they know the difference!  Today when I took my time to go in and I got to see them off to school and I got dinner started, I felt more like me, they were happier, I was happier and so my word for the year….FULFILLED!